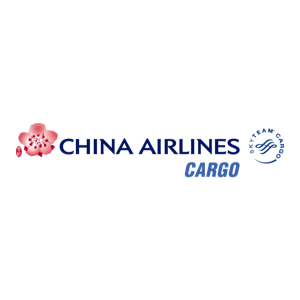 Founded in 1959, China Airlines is the largest Taiwan carrier. In 2014, China Airlines ranked No. 6 in IATA International Air Cargo Carriers by carried international air cargo volume 1,296 thousand-tones. Currently has a fleet of 86 cargo aircraft, of which 21 are B747-400F all-cargo aircraft. By using a combination of all-cargo aircraft and the bellies of passenger aircraft, China Airlines offers service to 97 destinations in 27 countries around the world.
With Taiwan at the center of its flight network, China Airlines offers extensive air freight services to Americas and across Asia, including China, Japan, and Southeast Asia. Using air cargo hubs like Bangkok and Osaka to optimize routes, China Airlines offers faster connections between regional and long-haul flights to the Americas and Europe.
China Airlines became a SkyTeam Member on September 28, 2011, and a member of SkyTeam Cargo on October 3, 2012.
Fleet consists of 89 aircraft, including 70Passenger Jets/ 18 Freighters (As of 31 March, 2019).
China Airlines AWB Tracking
Manage and monitor your China Airlines shipment at anytime from anywhere by using our universal AWB cargo tracking service.
China Airlines signed an agreement to begin the process of joining airline alliance SkyTeam on 14 September 2010[9] and officially became a full member on 28 September 2011.[10] This was marked by an update to the logo of the airline and the typeface in which "China Airlines" is printed. The carrier was the first Taiwanese airline to join an airline alliance.
China Airlines Cargo Tracking
China Airlines (CAL) is the national carrier of Taiwan and its largest airline. It is headquartered in Taiwan Taoyuan International Airport and operates over 1400 flights weekly (including 91 pure cargo flights) to 102 cities across Asia, Europe, North America and Oceania.
China Airlines has three airline subsidiaries: China Airlines Cargo, a member of SkyTeam Cargo, operates a fleet of freighter aircraft and manages its parent airline's cargo-hold capacity; Mandarin Airlines operates flights to domestic and low-demand regional destinations; Tigerair Taiwan is a low-cost carrier established by China Airlines and Singaporean airline group Tigerair Holdings, but is now wholly owned by China Airlines Group.
Track the China Airlines Cargo cargo using waybill, as well as any postal and courier shipment from China, Israel, USA, UK, Italy, France, Netherlands.