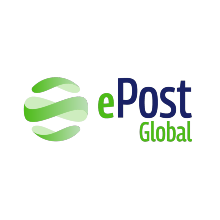 ePost Global ​is a global, integrated communications provider enabling organizations to create, manage, deliver and optimize their multichannel marketing and business communications.
ePost Global serves large, fragmented markets experiencing tremendous changes in the ways in which organizations communicate with their target audiences utilizing both print and digital channels.
ePost Global has an extensive customer base across industries in virtually every private and public sector, an unmatched portfolio of capabilities, a proven management team and the financial flexibility allowing investments in innovative technologies and growth opportunities to meet communications challenges.
Strategically located operations provide local and international service, which affords ePost Global a substantial advantage in being able to recognize and capitalize on evolving industry dynamics that impact our customers' needs to drive profitable growth.
ePost Global Tracking
ePost Global tracking is possible using our universal cargo and parcel tracker.
With Parcels app, you can track the ePost Global shipments, as well as any package shipped from China, Hong Kong, Singapore, Malaysia.