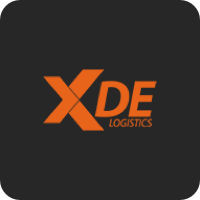 XDE stands for XIMEX Delivery Express. XDE offers freight forwarding services from air, land, and sea cargo shipments to assure our clients of our continuing pursuit to maintain excellence in service as a driving force of our brand.
For over 30 years, XDE Logistics has evolved from a simple freight forwarding business to a full service logistics company.
XDE Tracking
To track your package, enter your XDE tracking number into search field above and click Track Package
Ximex Express Tracking
Track Ximex freight, cargo and shipments fast and easy with our Philippines tracking portal.
Track and trace the status of your shipments or parcels. Enter your tracking number below and press search. If you have further concerns or need assistance, you call or email XDE customer care team at customercare@xde.com.ph
Ximex Lazada Tracking
Enter here your Lazada tracking number to track it with Ximex Delivery Express
What is XDEXpres System?
Whilst most Logistics and freight forwarding companies in the Philippines still offers the traditional freight forwarding services or customized logistics solutions, XDE Logistics continues to innovate and looks at alternatives to the traditional practices in the domestic logistics industry.
To help their partners have a more predictable delivery lead time, gain cost advantages and better visibility which leads to inventory reduction, improved customer service and stakeholder value, XDE Logistics offers our XDExpres System
About XDE
XDE Logistics is a locally owned private company with its head office based in Tanyag, Taguig City and is part of the XIMEX group of companies with its corporate headquarters based in Alabang, Muntinlupa City, Philippines.
One of the key strengths of XDE Logistics is that it owns over 1000 vehicles ranging from motorcycles to big tractor heads and specialty vehicles that services almost 98% of our customer requirements.
Logistics as a business relies heavily on qualified and highly trained personnel. Due to its continuous growth, XDE Logistics has consistently expanded its employee base.
XDE Logistics moves an average of over 4,000,000 kgs of cargo throughout the Philippines with hundreds of thousands of cbm passing through our facilities.